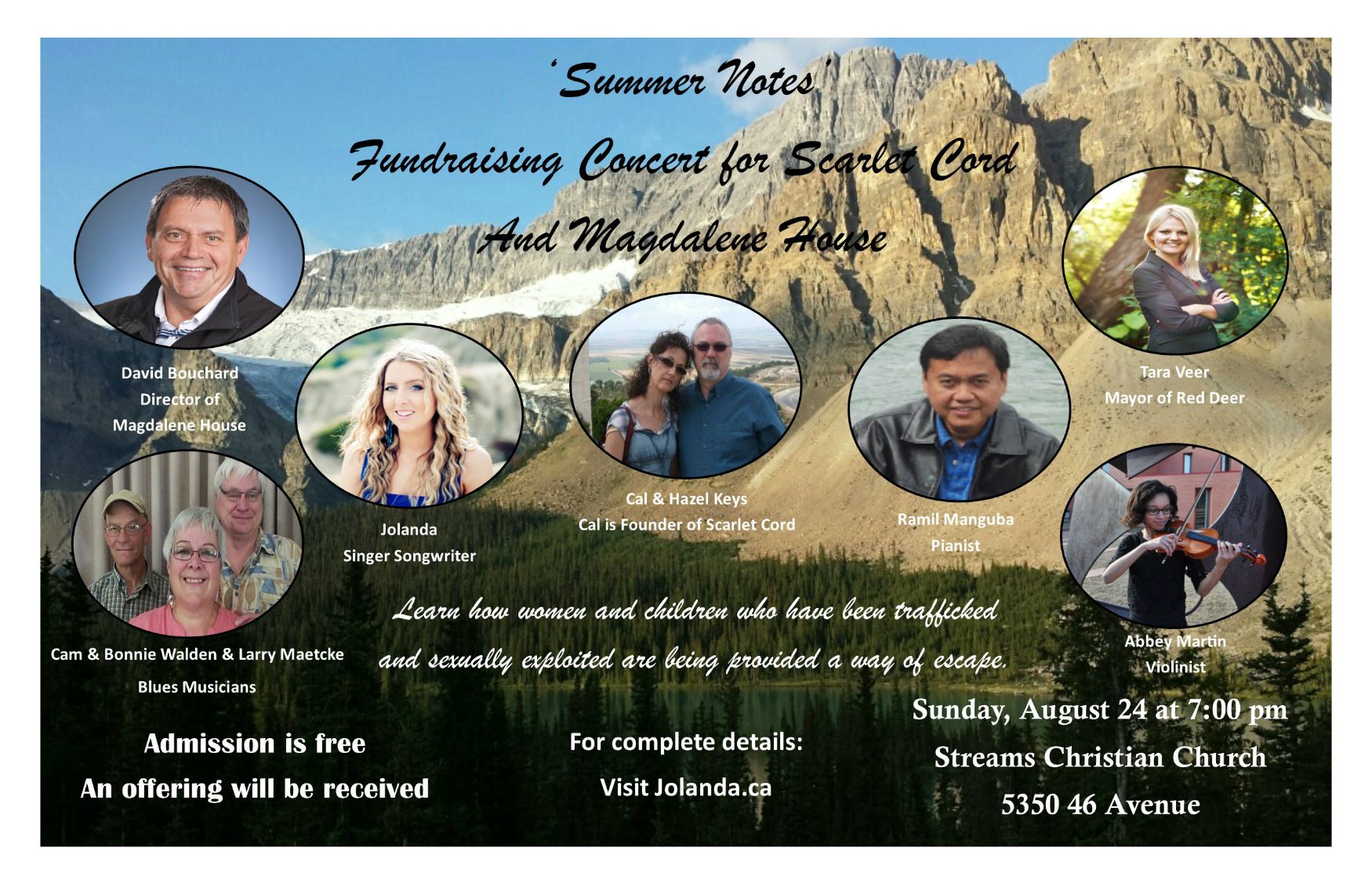 'Summer Notes' is a fundraising concert for Scarlet Cord and Magdalene House. These two charities help women escape trafficking. My family decided to put on a concert in memory of my brother Josh who passed away last year. He had talked about how he would have liked to have gotten involved with helping women and children who had been trafficked.
The three speakers for the evening are:
Cal and Hazel Keys
Cal is the founder of Scarlet Cord. It was founded in response to the dire need to combat human trafficking. Between 600,000 and 820,000 people are trafficked across borders annually. Half of these are minors and approximately 70% are female. Women and children in four countries are helped by Scarlet Cord. You can learn more at www.scarletcord.ca. On the website you can also learn how you as an individual can make a difference.
David Bouchard
David has been the director of Magdalene House since its inception in 2008. Magdalene House is a home of recovery for people exploited by trafficking. He has spoken to numerous groups, organized symposiums and works tirelessly for the healthy survival of people who have been trafficked. You can learn more at www.magdelenehouse.ca.
Tara Veer
Tara Veer is Red Deer's newly elected mayor. She proclaimed February 22nd, a day of awareness for human trafficking. This is an issue that is dear to her heart. Tara Veer stated, "Red Deer is becoming a large city and geographically we are located between two major urban centers where there is substantial organized crime activity and human trafficking is often associated with that. As much as we hate to think about it happening in our City, I think it's important to acknowledge that it can and does occur."
There will also be an array of talented Albertan musicians. Come and enjoy a beautiful evening of music and song.